Over the weekend I did some serious shoe shopping. Every pair of shoes I got I love! I can't wait to create some outfits posts with these babies!
Now onto the best part my new shoes...
I fell in love with these Libby Edelman flats when I laid my eyes on them. I'm not much for flats but I needed to make an exception for these. I think they are super cute. I love the bow, peep toe and the the zebra-like pattern. These shoes are classic and feminine.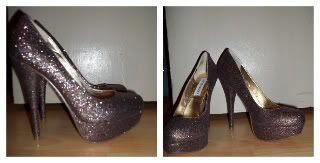 Steve Madden Cary Pumps
I have been in love with Glitter pumps for awhile. I almost bought two pairs of Glitter pumps before but the shoes were always too big or small. I think it was meant to be when I found these pumps. They are definitely a piece that will grab your attention. Not only are they extremely glittery but they have 5 inch heel. Thank goodness for the stacked platform to assist in walking.
I knew when I saw these I needed them!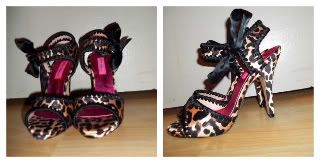 Betsey Johnson Calandra
Betsey Johnson can be counted on for fun and crazy pieces. When I saw these shoes I knew they were Betsey Johnson and would serve the purpose in the future of bringing some fun into my outfit.

xoxo
Jazz