Along with fashion one of my another favourite things is beauty products. I am always interested in trying new products to see how they look. When I go to Sephora or Ulta I always do serious damage. I decided to compile some of my favourite beauty products for you all.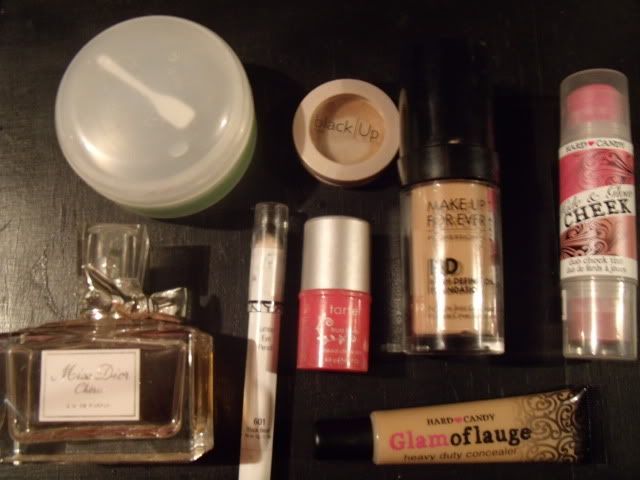 Miss Cherie Dior: I love this perfume. I am always wearing it. The smell is wonderful and the ads definitely were a factor in my decision to buy this perfume. The ads were so girly and whimsical. The beautiful Natalie Portman is currently the face of their campaign. The perfume has hints of
Green Tangerine, Violette, Pink Jasmine, Patchouli, Crystalline Musk, Strawberry Leaves, Caramelized Popcorn, Strawberry Sorbet. I would definitely recommend this perfume!
Sephora-1.7 oz, $77


Etre Facial Peel: This is one of my favourite products for my face. I was quite leery when I bought it as I was conned in by one of those men who grab your hand and tell you that you need to try their product from the Dead Sea of Israel in the mall. $4o later I ended up with this product. I have no complaints. It has done wonders for my face. I used to suffer from severe acne break outs and oily skin but this rarely happens anymore due to this product. It is a facial peel which takes off the first layer of your skin. It is much safer than chemical peels which I had been contemplating about getting. It leaves your face feeling fresh and smooth.
Stream Beauty-Peel, $12.99


Nyx Jumbo Eye Pencil: This is a great budget find. I love the Nyx jumbo eye pencils. They are great to use as eye-liner, eye shadow and even brow hi-lights. The color shown here and the one I use the most is Black Bean. The jumbo eye pencils come in many other colors so I would definitely recommend trying them out.
Nyx Cosmetics- Black Bean, $4.99


Black-Up! Black-Up is a cosmetics company that specializes in make up for Black women. This is is refreshing to find shades that are perfect for my skin tone. This concealer is one of my favourites because it blends in perfect to hide imperfections and dark circles. I would definitely recommend any of my readers with dark skin to check out this cosmetics company it is full of great products! My only problem is I bought this in Sephora in Paris and the North American Sephora's do not sell it :(
Black-Up-
14.50€
MAKE UP FOREVER HD Foundation: This is my favourite foundation ever! I would recommend this to everyone! It is full coverage and looks gorgeous in photos. It leaves you feeling fabulous. Many MUA's use this on their clients. Joyce Bonelli uses this on Kim Kardashian. The foundation comes in many different shades to meet every skin tone! I love this product and hope it never is discontinued!
Sephora, $40

Tarte Cheek Stain: I am a huge fan of cream blush. I don't like how crumbly power blush goes. Tarte is one of my favourite brands for cream blush. They have lot's of different colored blushes to match every skin tone and occasion. Tarte is a very eco-friendly make-up line which I trust to put on my face. The tarte mini cheek stain is not available anymore, however it is available in the full size! This is such a beautiful and natural color do not hesitate to buy this!
Tarte, $30

Hard Candy Glamoflauge Heavy Duty Concealer: Hard Candy is a line that used to be sold in Sephora. Now it is sold in walmart! Have no fear the quality has not been tampered with. It is still great! This concealer is one of their new products and I love it. It is a great dupe for Kat Von D's tattoo concealer. This concealer works great for covering tattoos, under eye circles, or anything else you feel you need covered. I was very pleased with this products especially for the price of it!
Walmart- Concealer, $6.00

Hard Candy Hide and Glow Duo Cheek Tint: This is another cream blush I love. Hard Candy has done it again with their dual cheek tint. It comes with two shades which can be worn separately or together providing lots of variety. The blush is very long lasting, it always lasts me a whole day. The tint I choose was pillow talk.
Walmart- Hot Date, $6.00


Please let me know if you would like any of these products swatched or more information! I would be happy to help

What are your beauty essentials?

xoxo
Jazz